6 Smart Home Improvement Investments with High ROI
Posted by John Wentworth on Monday, October 4, 2021 at 6:41 AM
By John Wentworth / October 4, 2021
Comment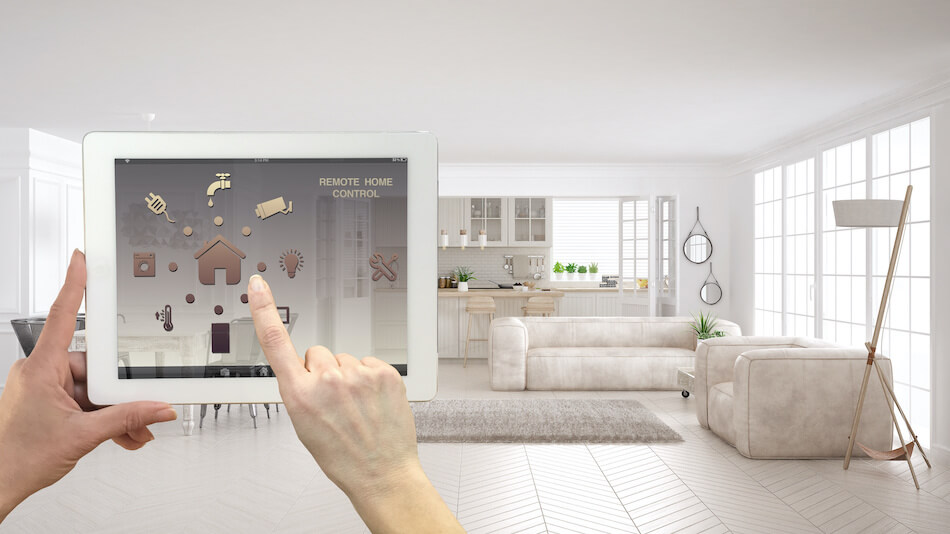 Smart features are a massive draw for homebuyers. Homeowners that want to upgrade their home while receiving a solid ROI can't go wrong by integrating innovative technology. Not only do smart home features boost the convenience factor while still living in the home, real estate agents consistently say buyers are willing to pay more for homes that feature smart tech. Looking to upgrade? Read on to learn about six smart home improvements with a strong return on investment.
Smart Thermostats Pay Off Fast
Programmable thermostats offer homeowners more control over conventional thermostats to conserve heating and air conditioning. Smart thermostats take this concept to the next level, giving people the ultimate control over their energy bills. Users not only select their temperatures, but the device itself detects preferences and, over time, learns how to adjust automatically. Furthermore, homeowners can also control their HVAC systems right from their smartphones through an app. Usually, these devices offer 100% ROI in a short period, making them one of the top energy-efficient home improvements.
Smart Appliances Cut Down on Energy Bills
Homeowners that want to give their kitchens an update can't go wrong with smart appliances. Units yielding the best ROI include refrigerators, laundry washers, clothes dryers, dishwashers, and standalone freezers. Smart appliances utilize automatic activation and can also be controlled through smartphones and apps, making them convenient and energy-efficient. This investment pays off since these appliances easily add value to a home and reduce energy bills.
Illuminate Savings with Smart LED Lighting
Converting to LED lighting saves homeowners about $225 in energy costs per year; not bad for an ROI. Smart LED lighting is not only cost-efficient; it scales back energy use and looks great. Users have total remote control through their smartphones and, due to the nature of the technology, some options detect patterns based on occupants' habits and light usage and will dim, brighten, or turn off. Accidentally left the lights on when leaving home? No problem, turn them off from the road. Want the house to look occupied? No need to rely on old, predictable timers; take control with a smartphone app. Furthermore, outdoor smart LED lighting adds a layer of safety and security, ensuring the property is well-lit.
Buyers Prioritize Reduce Homeowners Insurance Premiums
Smart smoke detectors bring safety to a new level. Not only do they increase the safety factor due to their precise ability to detect, but they also save about 5% on annual homeowners' insurance premiums. Smart smoke detectors also typically double as carbon monoxide detectors, which means homeowners only need to buy one device per area instead of two. Additionally, if something is amiss when away from home, the smart detector sends alerts. At a cost of approximately $100, this one quickly brings homeowners a decent ROI.
Homebuyers Prioritize Smart Door Locks
Smart door locks are super convenient. No more worries about losing keys, stashing a spare key, or keeping track of who has access to the home. Smart locks, enabled by Bluetooth or Wi-Fi, automatically detect when someone arrives home through a smartphone and unlocks the door for them. Homeowners can also grant either permanent or one-time access to visitors who need to enter the house, which is excellent for allowing family, guests, or contractors to enter if the homeowner isn't home or unable to get to the door.
Take Full Home Control with Smart Hubs
Singular smart features yield a pretty good ROI on their own, but smart hubs tie everything together and kick things up a notch. Homeowners love the convenience of smart hubs because they can control everything through the hub linked to their phones. Hubs are great to universally control energy usage and ensure no waste happens. Devices that can be linked to smart hubs include appliances, lighting, thermostats, HVAC, and even music speakers, to name a few.
Make Your Home Smarter Today
Not all home upgrades are worth the investment, but these smart home improvements often pay for themselves. As sustainable construction trends increase, energy-efficient smart features are sure to grow in demand, too. Plus, the efficiency and convenience it offers easily—and quickly—pays itself off almost immediately.