4 Questions to Ask Before You Buy Waterfront Property in Fenton, MI
Posted by John Wentworth on Thursday, January 20, 2022 at 10:28 AM
By John Wentworth / January 20, 2022
Comment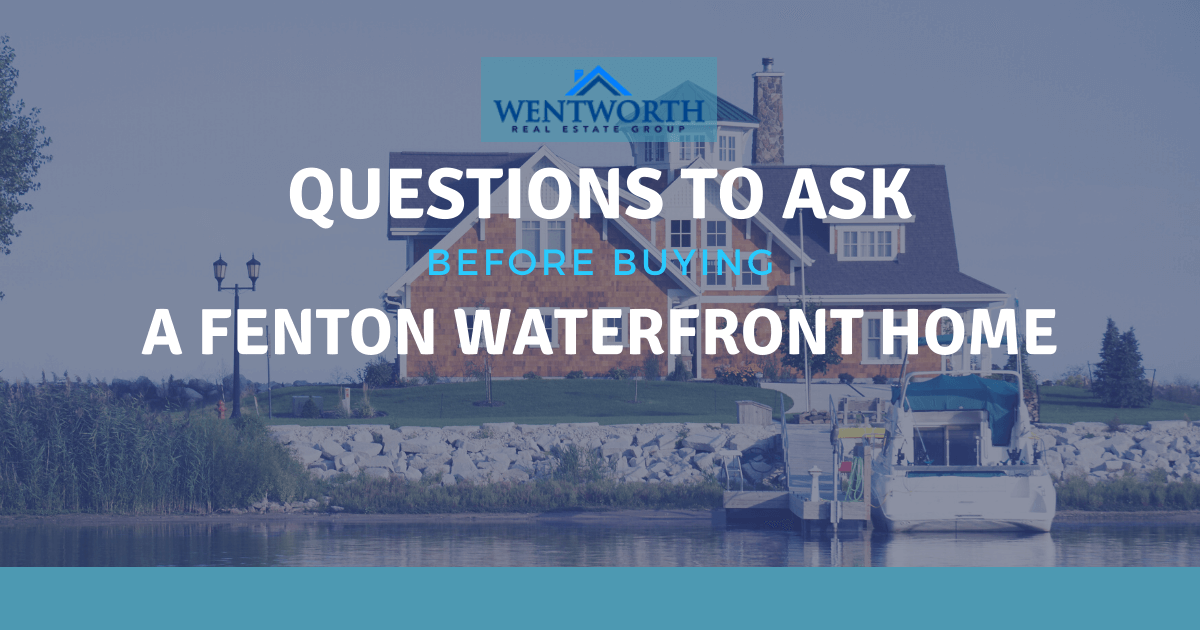 Fenton is a city in Michigan that lies roughly an hour northwest of Detroit. People who choose to buy Fenton real estate are often drawn to the beautiful lakefront properties found in this city. Fenton boasts 58 lakes (with Lake Fenton being the largest and most popular), so there's typically a sizeable inventory of Fenton waterfront homes for sale.
Residents find there are many advantages to owning Michigan lakefront property. In addition to enjoying the gorgeous scenery, people who live here relish a year-round vacation lifestyle with plenty of nature trails, swimming, boat rides, fishing, ice skating, and all things water sports. While buying waterfront property offers numerous advantages, potential homebuyers should understand ownership responsibilities, rights, and laws. Keep reading to learn which questions everyone should ask before buying a waterfront property.
What Are the Boundaries of My Waterfront Ownership?
Michigan homeowners typically have the right to do whatever they want in terms of home improvements, but the state does take the preservation of its lakes and rivers very seriously. Owners are required to abide by specific rules when it comes to installations or renovations that may impact the water, adjacent land, or other homeowners.
Riparian rights in Michigan are pretty relaxed, giving homeowners the freedom to use their waterfront property for non-commercial purposes so long that it does not impact or interfere with the rights of other riparians. Basic Michigan riparian rights include:
Reasonable use of water for domestic intentions and purposes.
Access to the water where they own riparian property.
Ability to install a dock on their waterfront land.
Freedom to anchor a boat on their bottomland or have the ability to secure mooring to their docks.
Ownership of the gradual accumulation of sand, silt, or organic matter on riparian-owned shorelines.
While these rights are reasonably broad, buyers should understand a few limitations that may affect their boundaries or ability to alter their properties. Riparian property owners may not anchor a raft or dock a boat on or above the bottomlands of another owner, or install docks of "unreasonable lengths" or at angles that restrict or limit the navigability of the water or affect the ability of their neighbors to do so. They also may not transfer riparian rights to another person or restrict water use by the general public. If they want to perform work or in any way alter lakefront property or water, proper permits from the EGLE (formerly DEQ) must be obtained, including building jetties or seawalls beyond ordinary high-water marks, removing aquatic plants, or otherwise modifying the shoreline.
Is Flood Insurance Required?
People who buy lakefront property are often surprised to learn their lenders require them to purchase flood insurance. Whether flood insurance is necessary will depend upon several risk factors, including the frequency of floods and the probability of flood. Even a minor flood can cause tens of thousands of dollars in damage. Obtaining flood insurance can help offset those costs that standard homeowners' insurance doesn't cover. Be sure to get a home inspection from a professional with flood experience.
Governed and administered by The National Flood Insurance Program (NFIP), flood insurance covers a building, its contents, and other property features. In recent years, U.S. government laws have impacted premium rates, and new homeowners shouldn't rely on one-time costs to indicate what they'll be spending. Buyers need to check with one or more flood insurance carriers to understand current costs better and learn about previous flood occurrences and future risks. NFIP is managed by FEMA and comprises more than 50 designated insurance companies that provide flood insurance.
What Is the Water Quality Like?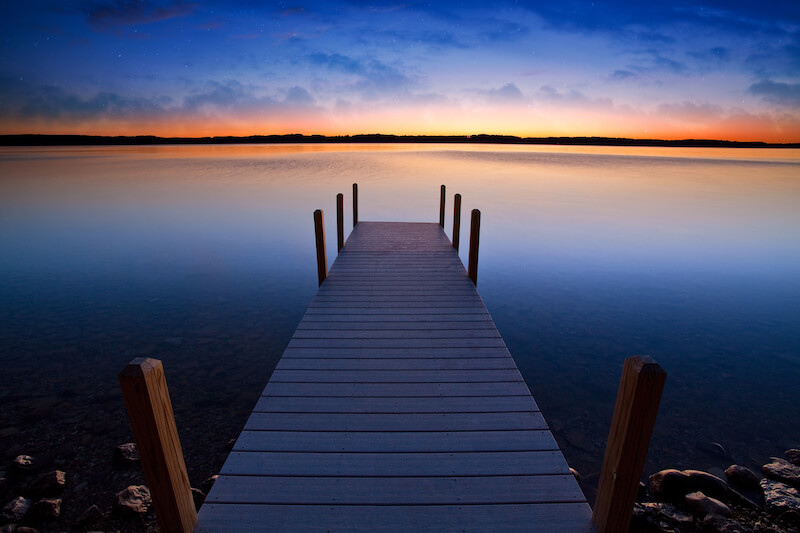 Owning waterfront property adds a definite positive to a homeowners' lifestyle. However, all buyers should know essential factors associated with water quality and water levels. For instance, buyers aren't just buying a home with a yard; they're buying a small section of a lake (or river) as well. They'll want to perform due diligence before investing to know the property they're buying has good water quality.
Gaining knowledge about septic systems, watersheds, water levels, lake formation, eutrophication, nutrient overload, and aquatic plants and weeds (including identification of invasive species) is critical because it can directly affect a homeowner's property. Water quality, which towns or associations routinely test, is also important because sometimes certain factors will affect a lake and negatively impact its health.
Can I Build a Dock or Swim Raft on the Property?
Living on lakefront property is typically a fantastic experience for most homeowners. Lounging by the water on a custom-built dock while anchoring a boat or raft to enjoy the scenery and water itself is a big part of the dream. While this lifestyle is a part of the deal, there may be state and local laws, along with community bylaws, that residents need to abide by before proceeding with any essential home purchases for lakefront properties.
For instance, there are no exact distances to how far swim rafts can be legally anchored in Fenton. However, the general rule is a raft may not "pose a navigational hazard" to boaters. Boat operators must be at least 16 years of age, properly licensed, and have their boats licensed per local laws. Furthermore, they must obey no-wake area rules, lake speed limits, and no-anchor rules associated with their specific lakes. Fenton homeowners must also abide by Michigan's riparian rules associated with docks, boat hoists, and swimming rafts to not infringe upon the rights of other riparians. These laws are designed so everyone can enjoy the waters and live their dreams.
Are You Ready to Buy Your First Waterfront Home?
Buying waterfront property in the best lakefront communities in Fenton is a choice homeowners typically never regret due to the beautiful atmosphere, remarkable amenities, and overall enjoyment. However, property adjacent to a lake also involves several responsibilities, rules, and other factors not typically associated with non-lakefront properties. Before pursuing the opportunity of buying a Fenton lakefront property, it's a good idea to ask the right questions and collaborate with a knowledgeable professional.
Fenton Waterfront Home Resources
Essential Purchases to Upgrade Your Waterfront Home - Coming Soon!